The war room, Gran Hotel Calderón, Barcelona
The unexpected extra day in Barcelona was good and bad news. Good in that I really like the city and now I had an extra day to do some of the things I'd never done, but bad in that I hadn't planned it and wanted to get on the road fairly quickly. After all, the next stop would be Perpignan, where I'd pick up a car and head into the mountains.
The room was ready, I did my customary three-hour nap, and woke up about 7. Still too early for a proper dinner, but not too early to think about it. I love me some tapas, but there's more than that happening around Barcelona, and I'm still learning about it. I had a list from some friends-of-a-friend who lived in the Gracia neighborhood, but I was still paranoid about carbohydrates. The cuisines I'd be negotiating over the next couple of weeks aren't too carby, but I still didn't want to blow the diet too soon. I needn't have worried. The best find on the list was
El Nacional
, which would be a tourist trap if so many locals weren't there. The concept sounds odd: four restaurants, four bars, all under one roof. Odd, but as I'd find out later, it works. I chose the fish restaurant,
La Llotja
, where I had the anchovies and then the clams and razor clams, as well as a green salad. They also, as many restaurants do, give you a bunch of olives to nosh on while you wait for your food. Spanish olives are the absolute best, and the never-ending ways of curing them and stuffing them are a delight: the garlic-cured ones and the chile-cured ones here knocked me out.
As did the beer and the walk home. I was already so spaced out by jet-lag that I'd missed this huge joint, located in a mid-block alley just three minutes from my hotel, but I enjoyed the walk up the Paseig de Gracia in the relative calm of a Tuesday night until I realized I'd have to walk all the way back. Ah, well, tomorrow was another day, and if jet-lag was doing its usual thing, I'd be awake early enough to pack it with activity.
Which is why I found myself climbing my first mountain in search of beauty. I was curious about the
Fondació Joan Miró
, because one-artist museums can be all over the map: consider the dozens devoted to the Surrealist charlatan Dalí, another Catalonian, or, indeed, Barcelona's Picasso Museum, which is a great collection of stuff created while Picasso was becoming Picasso, but nothing next to the
Musée Picasso
in Paris. Then there's the van Gogh museum in Amsterdam, which left me vaguely unsatisfied until I realized that he was terribly prolific and that the best versions of some of the paintings on display were in other museums. The Miró was better than that. He, too, was incredibly prolific, but he was also an abstract painter, not recycling scenes like Van Gogh's wheatfields, but trying one thing after another, chasing motifs and colors to see what worked. What I didn't know about the Fondació was that it was up one side of Monjuic, the huge hill capped by the
MNAC
, which I'd previously ascended by the series of escalators the city nicely provides on the approach from the Plaça Espanya. So I started walking down a street lined with electronics shops and bakeries, then a market in the middle of the street covered by tent-like structures (I didn't stop, fearful that I'd lose a bunch of time), and, after a bit, onto the Carrer Margarit, which led to my destination, but led to it up a fearful hill, which I gamely climbed.
The Fondació was a perfect introduction/overview of Miró's work: consisting of donations from his family, other artists, and museums who've put works on permanent loan, it shows how Miró developed, hanging out in Paris, befriending Alexander Calder, whose work has the same sense of play as Miró's, and struggling to come up with a personal style. Although we think of him as a painter, he also worked in textiles (there's a huge tapestry in one room) and sculpture, with some witty assemblages made from junk he picked up and painted bright colors sitting out on the terrace. I learned a
lot
about color here: he was obsessed with it, and worked hard at getting exact shades that would harmonize with each other. I stood for a long time in front of this: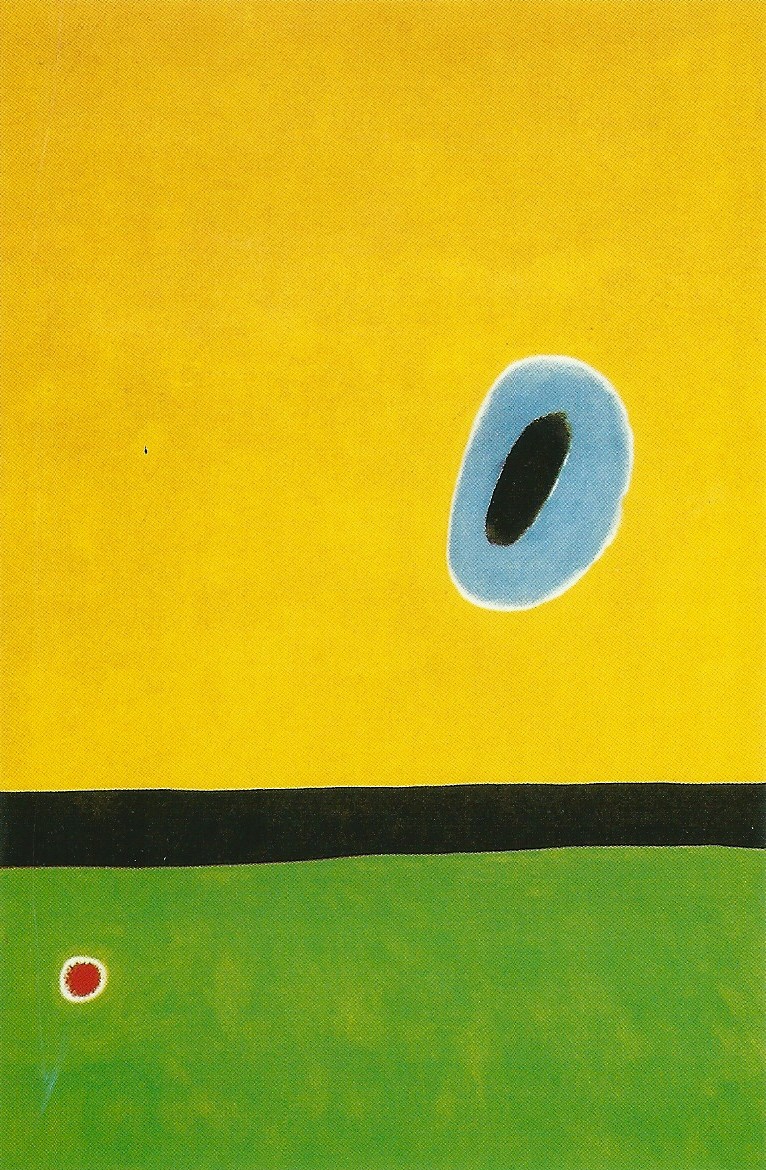 The Lark's Wing Circled by Golden Blue Rejoins the Heart of the Poppy Sleeping on the Diamond-Studded Meadow
It's so simple you
have
to look at it a long time. Elsewhere there's a room devoted to the year Miró made a hundred works on paper, which shows a guy just bursting with ideas, and a fine collection of late works donated by a Japanese collector. In the basement there is Miró's own collection of art given to him by friends -- Yves Tanguy, Henri Matisse, Robert Motherwell, Robert Rauschenberg and others -- and some of the winners of the annual Miró Prize. I'm going to have to go back to this place next time, just to further absorb the bounty.
Staggering back to the exit, I noticed that I'd inadvertently done a smart thing: I'd arrived shortly after opening. The line was down the block by now, so I skipped out and walked back to C/Margrit to head back to the hotel. Do I need to tell you I got lost? Well, I did. Given that so much of Barcelona is a grid, the angled streets can throw you off. Or threw me off. Next thing I knew, I was looking at a big statue of Columbus, and a quick check revealed I was at the foot of the Ramblas, the touristy strip I avoid because of crime and tourists, one of which attracts the other. But I was exhausted and knew that if I traversed the entire thing, I'd be a couple of blocks from my hotel. I was also hungry as hell, and knew just how bad most of the tapas joints here were. So I soldiered on.
This area had a bunch of these weird trees, which develop a kind of pot-belly and have huge fruits that look like cucumbers, which split open to reveal a cottony substance. I have no idea what they are.
Finally, I was in friendly territory and instead of hitting the hotel and collapsing, I had lunch at
Ciudad Condal
, the tapas restaurant on the corner. It was insanely busy, since it was mid-afternoon, which seems to be lunch time for Barcelona locals. I had some of my favorites -- a couple of croquetas, white anchovies marinated in vinegar, and, from the daily specials menu, a mixture of vegetables with romesco sauce. This last was something I'd never had before: a luke-warm stir-fry of eggplant, zucchini, asparagus, tomato and probably something else (I inhaled it immoderately), very close to ratatouille, with a puddle of lumpy red sauce next to it. Romesco is a Catalan sauce, and is made from hazlenuts, almonds, dried mild chiles and...other stuff. It's largely served with fish, but I didn't know that as I let it puzzle my taste-buds. Now that I'm back, I'm going to make some.
Unsurprisingly, a nap and some vegetation in the hotel room ate up what was left of the afternoon, and I already knew where I was going to eat:
El Nou de Granados
, an old favorite that I'd recommended to other friends and which, I understood, was still good.
Satisfied Customer at El Nou, 4/14/16
I like this place because they have fun with their menu, the service is excellent (and English-speaking to a degree) and the wine list is wide and innovative. I had their take on a Caesar salad and, um, I'm not sure what else, because Spain has a way of handing you tons of paper when you go to museums or other sights and towards the end of the trip, I tore up a bunch of it which unfortunately included some restaurant receipts. I do remember the wine, though: I'm getting into eccentric red blends, and this definitely fits that bill.
No idea what this label is all about
The next day there was business to take care of. The last time I'd had to take a train out of Barcelona, I was headed back home to France, and the guy at Renfe, the Spanish national railroad, refused to honor my French-bought ticket. Moreover, there was nobody in the entire gigantic station, including the travellers' aid folks, who spoke English. Thank heaven there was a young graduate student near me in line who helped, but Renfe still wouldn't accept the SNCF ticket. I was going to head to France the next day this time, but I needed to avoid dealing with Renfe directly. I also wanted to check out the
Museu del Modernisme
, which was right near me. And my friend Bob (seen checking his phone above) was going to arrive on my last day in Europe, at the end of the next week, and had rented an apartment in the Born district, Barcelona's new hot-spot. I'd agreed to meet his airport bus and take him to pick up the key and check out the apartment.
It turned out that the Corta Inglés, the huge department store near me, had a travel agency in the basement, and the woman who waited on me confessed to "a leetle" English. In no time, I had my ticket to Perpignan and was back at the hotel so it'd be safe. Then I headed to the museum, which, although small, was a wonderful education in Modernism, the movement -- largely in decoration -- that preceded Art Nouveau in Spain. Gaudí was the most famous (and extreme) exponent of it, but there were lots of others. The museum was founded by two guys with an antiques business who decided some of the furniture they were buying needed preservation and exhibition -- and promotion as a strongly Barcelonan product. The collection is small, but superb, and there's even a Gaudí piece in it, for those like me who don't particularly want to stand in line for several hours, pay over €20 for entrance to one of his houses, and view reproductions of pieces looted by Japanese tourists over the years. (Robert Hughes has a great rant about this in his book on Barcelona). In the basement, there's a large exhibition of the works of
Ramon Casas
, whose 150th birthday is this year. Casas was both a fine artist, painting beautiful women, for the most part (modern beautiful woman, not afraid to smoke a cigarette or -- shock horror -- ride a bicycle), and he put this skill to advertising art, so there's a bunch of that. And if you're a first-time visitor to Barcelona, just seeing what Modernism is will open your eyes, and you'll notice the many, many buildings, especially in the Eixample neighborhood you're in, that are built in this style. Many masterpieces are on the Paseig de Gracia, but many are not.
After a quick trip to the hotel to check that I had my bearings right, I headed towards C/Princesa to get my routine for Bob down. I turned onto the Via Laetana, an old Roman road, now a major artery, for some time, turned left and there the street was. I walked almost to the end to the hotel that also rents apartments, noted the address, and was delighted that it was next door to one of my favorite lunch joints,
Bar Celta,
so I dropped in and had lunch. Refreshed, and with nothing else to do that day, I wandered Born, which has some magnificent little alleys, as well as several large plazas.
I kept wondering what the apartments in this crazy skinny building looked like
Also, at the end of Princesa is the Citadel Park, which I'd not known about previously. It has the Catalan Parliament building
and the second-most-over-the-top fountain I've ever seen (number one is in Béziers, but this photo doesn't give a true feel for how crowded with symbolic crud this one is)
No, that's not the Brandenburg Gate's Quadriga on top, but close
and somewhere in the park is the Zoo, although some critters are loose
Fortunately, he was too stoned to move
I then walked back to Born, where I admired the street art -- and the streets themselves.
Then it was back to the hotel, another meal at El Nacional (the meat restaurant this time, although I got lost after hitting a bank machine for some cash and I lingered at the wine bar for over an hour waiting for the phone call saying my table was ready -- the woman had lost my number, and it was close to midnight when I ate), and bed so I could catch the train to Perpignan, over in Catalan France.
* * *
Dalí proclaimed Perpignan station to be the center of the world, a title they use to advertise it, but I'm not so sure. It's not even in the center of Perpignan. It was, however, close to the neat little hotel I'd chosen, so it was a ten-minute walk to the
Nyx
. They were super-friendly, anxious to practice their English, and I was settled in in no time. This gave me lots of time to wander the historic center of Perpignan, which is compact, and overlooked by the Palace of the Kings of Majorca. Yes, the tiny island in the Mediterranean once ruled significant parts of Catalan France and Spain. The building is best seen from outside: although I paid admission, there's nothing but empty rooms, devoid of decoration inside. I was also hustled out by a surly guy even though the place was supposed to be open for another 40 minutes.
Big, but boring
I wandered some more, looking for places to check out the next day, getting lost in the warren of streets and generally enjoying the ambience. Next to the Cathedral of John the Baptist, I saw a restaurant that looked good, and so I went there that evening. Le Saint Jean is a wonderful combination of Catalan (a fine charcuterie plate to start) and French (veal with a wine reduction), and although the owner hypes his own wine, Mas Divin, I went for another, and was transported: again, an eccentric blend of reds was a knockout.
The veal
The wine
I'll be back again to try his wine, too: this place was a find.
The next day, I picked up the car I'd have for the next week at the train station. As they'll often do, they upgraded me to a Peugeot 2008, a car I came to love driving. Neither the Europcar guy nor I could make the navigation system make sense, but the map itself showed enough to get me around. The day, though, was overcast, not quite raining, but not quite not raining, either. My goal was to find a number of Romanesque chapels nearby and also to visit a museum dedicated to a single Romanesque sculptor, which I thought was pretty unusual, in a suburb of Perpignan. The lady at the desk kind of talked me down, though, and I'm glad she did. She mentioned a church in Elne that was a must-see, so I decided to do that one first.
And I got lost, of course, in part because one of the roads to Elne was blocked off. First, I landed in Canet Plage, one of the horrible decaying holiday villages de Gaulle built in the '60s. Great day for a beach:
See the lone joggeur?
Then I got lost some more looking for Elne. The weather was something else: stopping at a pullover at a winery called Mas Senior, I snapped this hallucination.
Floating mountain
Finally, I hit Elne. It's a fairly small place, although the church isn't. And it's got a hell of a history. As a plaque tells it:
In 1285, war broke out between Pere II el Gran, king of Catalunya-Aragon, and Philip III le Hardi, king of France
The French troops besieged Elne and broke into the city. On May 25th, the inhabitants sought refuge of last resort in the cathedral but the besiegers burned the door and massacred the population in the sacred place.
A ceramic memorial outside the church goes into gory detail, albeit in Catalan, from a 13th century account: women raped on the altar, then murdered; babies smashed against the pillars; every single inhabitant killed and all of the buildings reduced to rubble. They rebuilt, and the cathedral, too: this was an important center for the Church, and a monastery was added to it. The monastery's cloister has been restored, despite resistance from the French government, for some reason, and it's the most spectacular collection of Romanesque sculpture in its original context that I've ever seen. I'll try not to post all the photos I took.
A bible story? Who are the three guys? Are they dead?
No idea
Lots of weird animals on these pillars
Again, no idea, but the snake's cool
Small lizard on the pediment
Elne lost its vootie to Perpignan eventually, and some of the cloister's pillars were looted by antique dealers, but a lot of it's been restored and every single one of these pillars is worth looking at: it's the medieval mind gone nuts. I was breathless by the time I left.
Could this place in the suburbs, in Cabestany, be worth it? Aaah, it was on the way back to town, so why not drop in? It was an easy enough drive, Cabestany touts the museum, so it was easy to find, and I paid my dough and went in. And, although I'd just seen some of the best Romanesque sculpture I'd ever seen, I was agape. A piece of an altar had been discovered not too long ago while making repairs to the church in Cabestany, and it seemed far more accomplished than most Romanesque art.
Dramatically lit, like everything in the museum, this is it
The fragment excited the world of Romanesque scholars and other pieces that seemed to be by the same hand began to surface in a bunch of different churches in France, Spain, and Italy. Who was this guy?
The museum is
refreshingly frank about the answer
: basicallly nobody knows. He might not even be one person. Then again, he might be. Whatever the case, the museum has a wonderful collection, as well as a great explanation of it, and of Cabestany's role in that period's history. Why, it was the home of Guillem de Cabestany, a troubador whose object of adoration was the lovely Saurimunda, wife of Raimond de Castell Rosseló, who had him killed and his heart served to his wife, cooked and peppered. When she found out what she'd eaten, she killed herself, and when the king, Alphonse II, heard the story, he had Raimond imprisoned, where he died. Apparently this legend originated in India and has many versions in Arab poetry, which explains how it arrived in Cabestany.
I was so impressed that I bought one of the Master's works. Oh, it's only a reproduction from the gift-shop, but I wanted a souvenir of this day. The lady at the desk packed it well ("There. You can now play football with it.") and it survived the journey to Texas. I'm not sure what it represents -- an angel? a saint? something else? -- but it's good and mysterious.
We'll stare at each other a bit until we get to know each other.
Getting back to Perpignan looked easy from Cabestany: it was only a few kilometers. And that train station may have been the center of the world, but it was very hard to find: it took me two hours, between the frustrating one-way streets and the construction. I parked the car, went back to the hotel, and only emerged for yet another fine meal in Perpignan at
Le Figuier
, recommended by the front desk. Wine by Mas Senior, of course.
After all that driving, I was pooped. The next day's drive was only to Narbonne, but I was taking the long way there.
Next: Another Day, Another Mountain